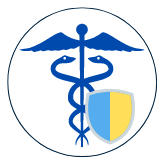 1. Support army medics
Targeted assistance to ensure the work of army medics.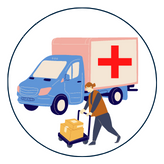 2. Humanitarian aid
Targeted assistance to communities that welcome IDPs and to refugee coordiantion centers.

All collected donations go towards:
Material support of army medics. Targeted purchases for military medics. We're in direct cooperation with the Armed Forces teams on the front lines. 
Humanitarian aid for communities that welcome displaced communities and for refugee coordination centers. This includes food kits, hygiene products, medicines, clothing and essential items. 
"Global Synergy" - who are you?
We are a charitable organization with 19 years of experience in humanitarian projects, including the reconstruction of destroyed schools in settlements along the demarcation line (2014-2017), information and translation support during Euromaidan (2013-2014) and other civic society development programs, sustainable development projects, as well as the preservation of Ukraine's cultural heritage.
What are the stages of project implementation?
Over the next 8 weeks, we are making purchases tailored to the needs of communities and army medics.
On June 1, there will be a review or adjustment of needs for the next 4 weeks in the above areas.
As the war continues, such an update will be carried out every 4 weeks.
All funds raised and their use will be disclosed and reported in the 2022 annual financial statements.
How much money do we need to raise?
In the current phase of the project to support army medics in Kyiv, we received a list of needs for approximately 33 000€ / 34 000$ (phase until April 4, 2022).
Please keep in mind that the needs of communities and army doctors are significant and change daily. Therefore, on June 1, we will update the targets for the provision of army medics on the front lines, in particular, taking into account our capabilities at that time.
What will happen to surplus funds?
We will direct funds to the charity program to restore the medical and social infrastructure of the affected settlements and communities.
By making a donation, you agree that these funds are non-refundable and that in the event of a surplus, they will be used in the above direction.
Questions? Partnership? Our contacts:

Donation through a secure portal Liqpay
Bc1qm6cv4fxafks7fs7yhs77zxjrze6ey4mrkq6l8f
0x5E9c66504fbe0672e35782582A6cD7b8fA057834
Organization Name
CO "CHARITABLE FOUNDATION "GLOBAL SYNERGY"
IBAN Code (Euro)
UA163052990000026000046226915
IBAN Code (UAH)     
UA843052990000026004006224016
Name of the Bank
JSC CB "PRIVATBANK", 1D HRUSHEVSKOHO STR., KYIV, 01001, UKRAINE
Bank SWIFT-Code
PBANUA2XXXX
Organization address
2/58 vul. Pivnichna, office 3, 04214 Kyiv, UKRAINE 
Purpose of bank transfer
Charitable donation